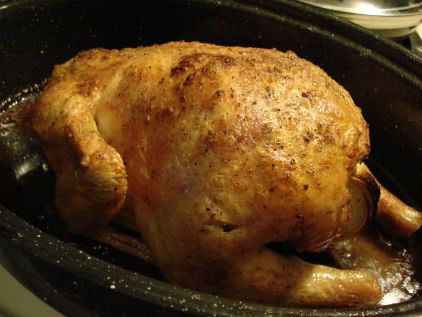 I can't stop singing the praises of roasted chicken. I made it a few weeks ago when my parents came to help me find an apartment. They know my culinary habits, so they weren't exactly surprised that I had prepared them something a little fancier than boxed macaroni and cheese, but I think they were still impressed. I don't think they were expecting such a traditional meal. Look at that browned skin. Look at the bubbling juices sitting in the bottom of the pan, just begging to be turned into gravy. And you can't tell from this picture, but I assure you, the meat beneath the crispy skin was juicy, flavourful and delicious. It was also the first time I had ever cooked a whole chicken.
That chicken cost me $3, if you can believe it. Inspired yet? There are a ton of roasted chicken recipes out there, if you're interested in making one. I used a recipe from Trish Magwood's Dish Entertains, but a simple google search will yield plenty of results.

While we're on the subject, what's your favourite traditional meal? I'm not trying to be anglo-centric, so please, whatever traditional means to you, I'm game. It doesn't have to just be meat and potatoes. Please let me know in the comments.