During the Wineries of Niagara on the Lake's Wine and Herb Festival, my family and I managed to sneak over to Anna and Michael Olson's Olson Foods + Bakery, located in a beautiful little waterfront town, Port Dalhousie. Anna Olson hosts two cooking shows, Sugar and Fresh, on Food Network Canada.

Given Anna's mouthwatering dessert recipes, I was more than a little excited to check out her shop.

Although the store is quite small (it's currently undergoing an expansion, thankfully), it still boasts a wide selection of cheeses, many of which I'd never heard of before. If I lived in the area (and thus wasn't afraid of spoilage), or if I hadn't already filled up on wine and food pairings, I could've gorged myself on all of the wonderful cheeses the shop stocks.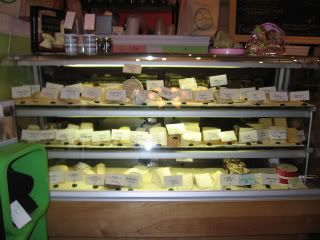 On the other hand, surprisingly, the baked goods selection seemed rather small. But what the bakery lacked in selection it made up for in quality. I bought a Chocolate Crinkle cookie (similar to Martha's, but fudgier), which was probably the best cookie I've ever tasted in my life -- really. My mom bought a lemon cookie that was very cakey with the most delicious icing on top (cream cheese icing?), as well as a maple nut scone. Still, considering how delicious everything was, I wish there had been more to buy. Hopefully the shop's expansion will make room for more baked goods.

In addition to its selection of cheeses and baked goods, the shop also stocks select produce and meat, as well as a small cafe menu with various coffee drinks, panini and more. In between the cafe and bakery portions of the shop was a focused selection of gourmet pantry items, which you can also buy online. They were on the pricy side, but that's kind of a given when it comes to products like fleur de sel and Barefoot Contessa sauces.

If you're in the area, Olson Foods + Bakery is worth a visit -- for the chocolate crinkle cookies alone. Who knows? Maybe you'll even get to meet Anna Olson.

You can check out the rest of the photos, including shots of the chocolate crinkle cookie and the gourmet foodstuff, after the jump.