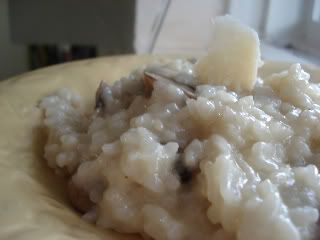 I thought I'd share a very basic risotto recipe that I love to use as a base whenever I'm in the mood for risotto. My favourite combination is a very simple white wine and mushroom risotto, but you can do so much with this: add pancetta, peas, goat cheese, seafood, roasted garlic...pretty much anything you want.

The full recipe and more pictures are after the jump.


Ingredients

Mushrooms
About 1/2 lb. of mushrooms, sliced
1.5 tbsp olive oil
1 clove garlic, minced
Splash of white wine

Risotto
1 medium onion, chopped
3 tbsp olive oil
1.5 cups arborio rice
6 cups chicken stock, brought to a simmer
1 and 1.3 cups white wine
2 tbsp butter
1/4 cup parmesan, plus a heck of a lot more for serving

Mushrooms
Saute mushrooms in olive oil until almost tender. Add garlic and a splash of white wine, cook for about 1 minute more. Add salt and pepper to taste. Set aside.

Risotto
Bring the chicken stock to a constant simmer in a medium pot. Meanwhile, heat 3 tbsp olive oil in a large, heavy bottomed pan (I used my cast iron dutch oven) over medium heat. Saute onions until tender. Add rice and cook, stirring, for about 1 minute, until the rice looks clear, but be sure not to toast the rice. Add white wine, stirring constantly with a wooden spoon until almost completely absorbed.

I used to have a hard time judging what this meant until I learned this trick: the rice is ready for more liquid when you pull your wooden spoon from the edge of the pan to the centre and the rice 'hesitates' to come back together. Kind of like parting the Red Sea.

Anyway, back to the recipe. Once the wine is almost completely absorbed, set your timer to 30 minutes. Add about a 1/2 cup of hot chicken stock (about a ladleful, depending on the size of your ladle) to the rice, stirring constantly. When the chicken stock is almost completely absorbed, add more. Keep doing this. About 20 minutes into stirring, add another 1/3 cup of white wine and top it up with a little extra chicken stock. As before, keep stirring constantly. During the last 10 minutes, taste the risotto regularly to check for doneness. It's finished when it's al dente. On my stovetop, this took exactly half an hour, but you may need to cook it a little less or a little more depending on your stove.

When the risotto is perfectly cooked, add the butter, salt and pepper to taste, and at least 1/4 cup of freshly grated Parmiggiano-Reggiano cheese. Give it a stir.

Serve immediately with another big pile of parmesan on top. Enjoy!



Parting the proverbial Red Sea



The garlicky mushrooms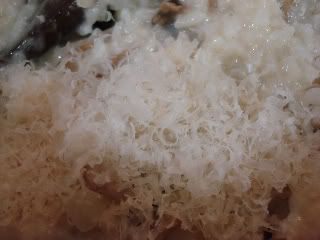 There's never enough Parmesan