Another round of Four Foods on Friday! This time I'm including a recipe for my favourite quick meal, which, surprisingly, I've never taken a picture of! Something to add to the to-do list the next time I make it.

#1. Turnips. Love em or leave em?
I know it's childish, but yuck! The closest I can get to turnips is parsnips. Those are delicious roasted with sweet potatoes, carrots, and a little maple syrup.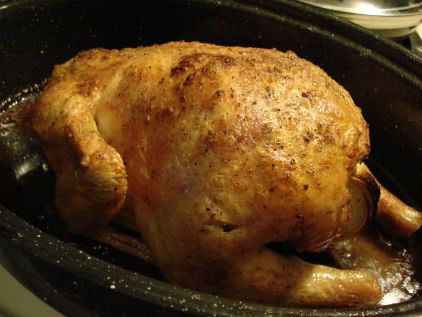 #2. What's your favorite roasted dish?
Roasted chicken! It's so delicious and surprisingly easy. And chicken gravy is amazing.
#3. Salsa. What kind do you like?
Medium spiciness, and homemade, if possible. I've never had mango salsa or peach salsa or anything like that, although I keep meaning to try. Anyone know of a good recipe?
#4. Share directions on how to make your favorite quick meal, meaning start to finish in about 30 minutes or less.
This is my favourite quick meal lately, because it's really fast, but the blue cheese makes it taste elegant. It's even faster if you cook the pasta the night before, mix it with the shallot mixture, and keep it in the fridge until dinner (or lunch) the next day. Recipe is below.
Bow Ties with Warm Blue Cheese Sauce by Robin Miller (slightly modified)


Serves 4

12 oz. farfalle pasta
2 tsp. olive oil
1/4 c. shopped shallots
1 teaspoon dried thyme
1/2 tsp salt
1/4 tsp freshly ground black pepper
2 cups milk
1/2 cup sour cream
1 c. crumbled blue cheese
1 cup frozen green peas

Cook the pasta according to package directions. Drain and transfer to a large bowl.
Meanwhile, heat the oil in a large skillet over medium heat. Add the shallots and cook, stirring, until tender, about 5 minutes. Stir in thyme, salt, and pepper until well mixed and thyme becomes fragrant. Add mixture to the cooked pasta and toss to combine.

Heat the milk in a large skillet over medium heat. When tiny bubbles appear around the edges of the pan, reduce heat to low and mix in sour cream and blue cheese. Stir until cheese melts. Add the peas and cooked pasta and simmer for 1 minute to heat through. Serve.